November 30, 2012
I couldn't stop thinking about the possibilities of this Code step sequencer and Reason. I HAD to try the combination of interactive steps and full control over my Reason Rack.
I made the necessary modifications to the Code Remote script so it only uses one MIDI channel, which freed up the other 3 for the banks on the Code. (the updated script is available here )
Using the Code Editor (version 2) I assigned the bottom right button on the code to be my bank switch button so I could seamlessly navigate among the sequences and Reason, which effectively just changes the channel the Code is sending out (though with the Editor, you can make banks radically different – I had no reason to, though).

In Max, I had to modify the CodeSeq patch so it can send notes on a chosen channel, and I made the bottom button beneath the far left encoders serve as a notes enable/disable toggle for each step sequence (I couldn't use the large corner button, as that is a "global" start/stop for Max). These were finished in a minute or so, and I was ready to jam.
I setup Reason in a pretty old-school way, treating the synths and effects as "desktop gear". I didn't use the mixer or sends or anything, I just connected things in series so I could get on with jamming.


Finally, I set up the "Advanced MIDI" area to route the step sequences to the various devices.

Below is an over the shoulder view of what it's like to play with this.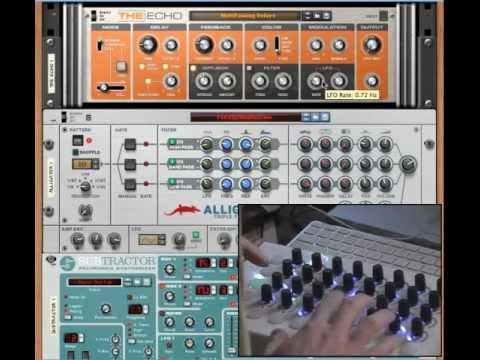 I've updated the CodeSeq application and patches. I made it possible for the standalone to have 4 sequences, too. They are available for download for Macintosh and Windows. The patcher file for Max is also available for download.